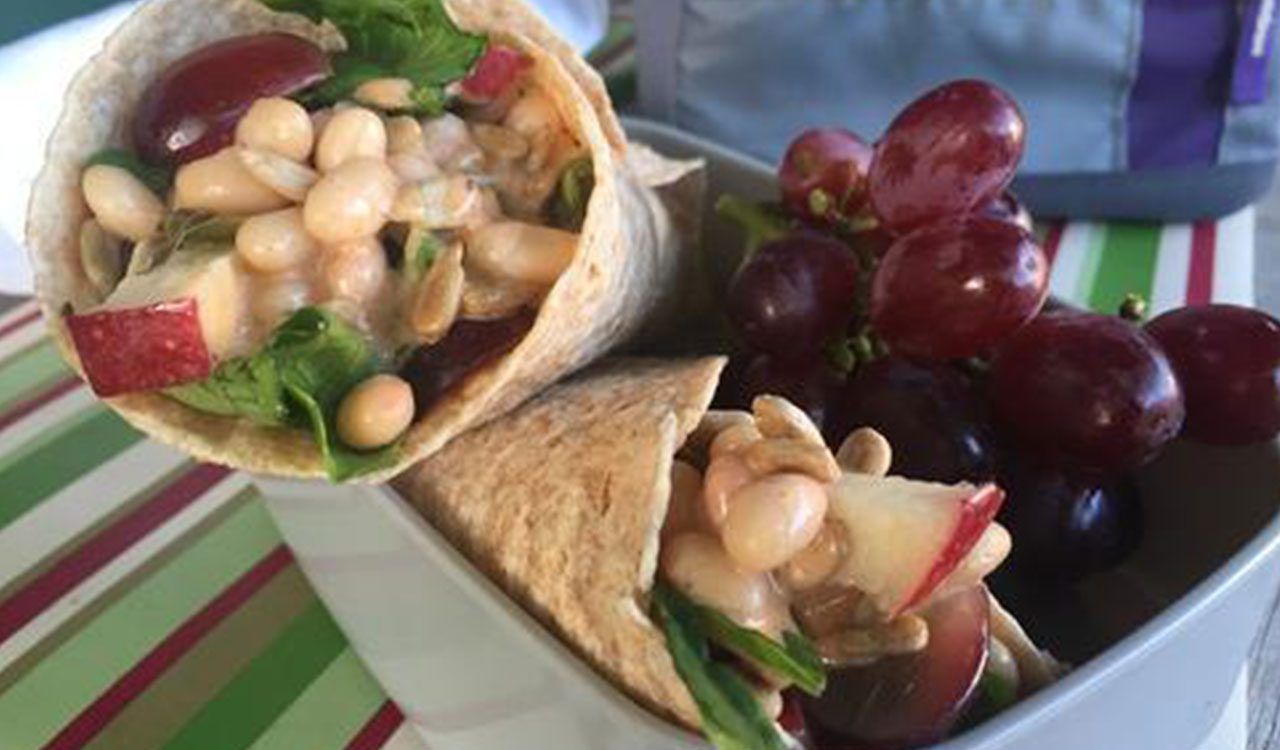 Sweet and savory, featuring the classic American bean that got its name for nourishing our sailors. 
Tips and tricks:
1. Let your kids create the wrap.  They'll take pride in their creation and are much more likely to eat it.
2. Use organic whenever possible.
3. Many of our wrap recipes call for Vegenaise as an ingredient in the dressings.  We understand that even egg-free mayo is not a health food, but it can help  kids to eat more veggies.  Delicious, nutrient dense plant-based alternative, easy cashew mayo recipe.
4. Measurements are approximate.  We would have listed ingredient amounts as "a scoop of this," or a "handful of that," but  measurements are a great for math.
Wraps rock, American Style!
Ingredients
2 large/10 inch whole grain rich flour tortillas
2 cups romaine lettuce, chopped thin
1 cup, cooked navy beans (or white kidney beans), rinsed & drained
1/3 cup each: apples and grapes, chopped into bite sized pieces
1 stalk celery, sliced thin
1/4 cup (hulled) sunflower seeds
Dressing.
1 Tablespoon Vegenaise or cashew mayo, mixed with 1 Tablespoon (or so) of French salad dressing
Preparation.
​Warm tortilla over low heat until soft. Meanwhile, toss remaining ingredients together in a bowl.  Wrap up in tortillas.  Enjoy!  Serves 2.
Good Nutrition News for OCTOBER
Here's a sample of the nutrition knowledge your student is gaining this month, with The Daily Scoop, good nutrition news delivered daily!
Fruit juice is healthier than soda, but a whole piece of fruit is even healthier than juice. The actual fruit has fiber, and fiber is very important for keeping the inside of your body clean, which can protect against disease.  Apples and pears are fall fruits.
Apples are called "nature's toothbrush," because biting and chewing on an apple can reduce the amount of germs that cause cavities.
Beans are rich in protein for strong muscles. One of the most popular beans in America is the Navy bean, named for the United States Navy, because the United States Navy has relied on these small white beans to keep its sailors strong at sea.
We hope these tips and special recipe will spark a healthy conversation about nutrition around your dinner table.  Remember, eating plant-food is good for you and the planet too!  Brought to you by  leanandgreenkids.org