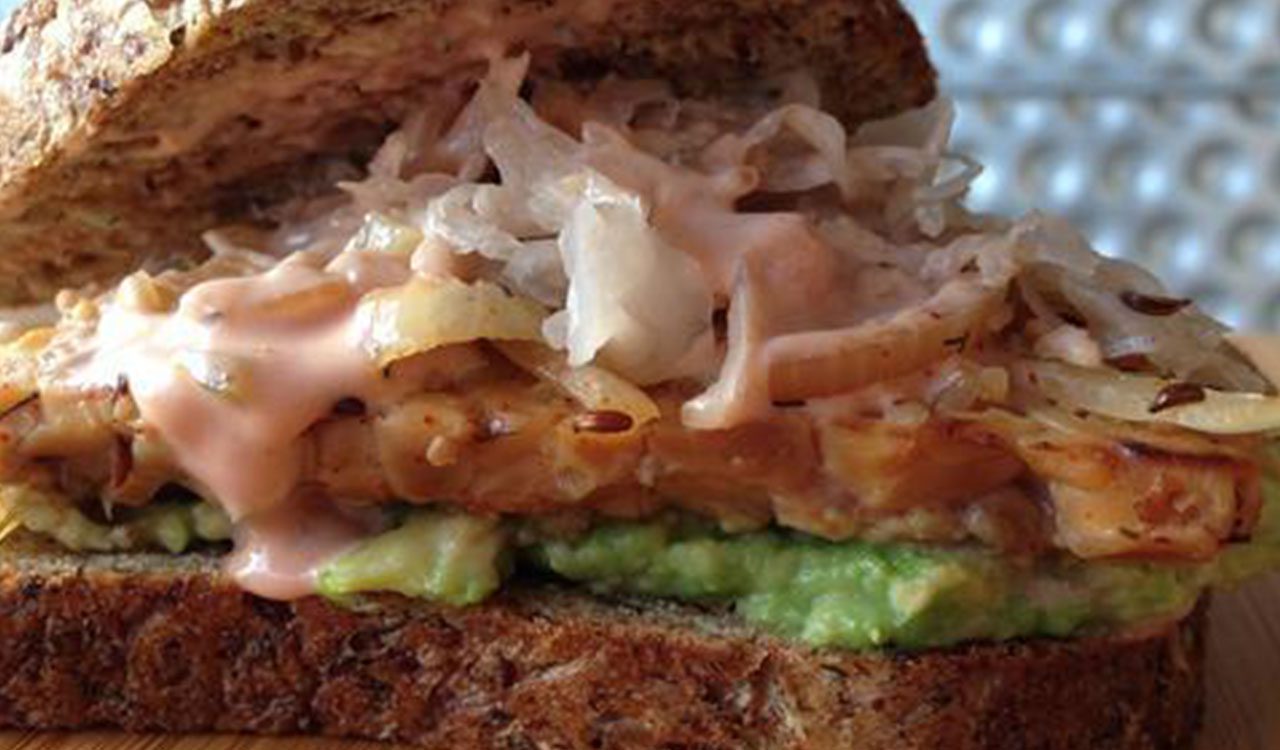 Juicy, rich and tangy – this Tempeh Reuben is sure to become your St. Patty's Day tradition. St. Patrick would, no doubt, bless you for making your protein leaner, greener and kinder!​
Fermentation makes tempeh quite possibly the most nutritious, whole and digestible form of soy around. Tempeh has much more than nutrition to recommend it, including an earthy flavor and firm texture to make any dish hearty and satisfying. It was first created in Indonesia and can be a chameleon, soaking up more flavor from marinades and sauces, which makes it surprisingly versatile.​​​
Click here for a great article all about the merits of Tempeh.
Good Karma
Ingredients
1 – 2 Tablespoons, Canola oil
1 Block of Tempeh (8 ounces) cut in half, then sliced down center, for 4 thick slices
1 large onion
2 teaspoons of garlic
2 bay leaves
2 teaspoons of paprika
1 teaspoon of caraway seeds
1 teaspoon of dried dill
3 Tablespoons of apple cider vinegar
1 Tablespoon soy sauce (or tamari)
1 cup water
8 slices rye bread (Trader Joe's Sprouted Rye is recommended)
2 Tablespoons Earth Balance (buttery spread, optional)
1 cup, sauerkraut
2 Avocados, mashed
Homemade Dressing:
Combine Veganaise (vegan mayo) w/ 2 Tablespoons ketchup & 2 T relish
Directions 
In a large sautee pan, heat oil over medium heat and saute onions until translucent, stirring occasionally.
Next, stir in seasonings, arrange tempeh slices in pan, and add liquids (vinegar, soy sauce, water).  Simmer for 30 minutes or until juices have been absorbed by tempeh.
Toast rye bread lightly, or (optionally) spread with Earth Balance and grill lightly in separate skillet. Stack sandwich with avocado, tempeh, onions, sauerkraut, and homemade dressing.
Serve with steamed potatoes, cabbage, and carrots for a traditional Irish experience.  To add some pizazz to veggie side dish, toss with a mustard vinaigrette.